Classes
$5 Classes Every Saturday 8am Budds Beach
Private Classes Held At Benowa Botanical Gardens – Bookings Essential
NOTE: Please Check BOHO Yoga Journeys Instagram Page or Facebook for any class updates they may be cancelled due to weather
How Do I Get To Budds Beach Yoga
Head Towards Marriott Resort before you see the resort turn left onto Birt Ave and go all the way to the end until you see the beach – there is a park by the beach where the yoga will be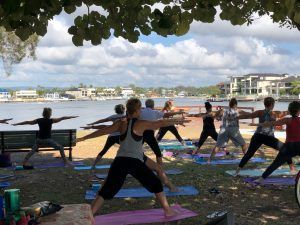 How To Get To Botanical Gardens Yoga
Address: 230 Ashmore Rd Benowa
Gold Coast Regional Botanic Gardens is supported by Surfside bus services to the nearby Benowa Gardens Shopping Centre.
By bus
From Broadbeach, take the 741 route to Benowa Gardens Shopping Centre, or from Southport, take the 737 route. From Benowa Gardens Shopping Centre it is just a 450 metre walk west to the Botanic Gardens entrance.
By car/taxi
Direct access to the gardens is available from 230 Ashmore Road, Benowa. There is plenty of free parking on site. The Gardens are just a 10 minute taxi ride from Surfers Paradise.
Where To Find The Yoga At The Gardens:
Park near the kids play area or near the coffee shop – walk up the garden path near the coffee shop you will see a lake on the left – there is an undercover area which is where the morning yoga is held.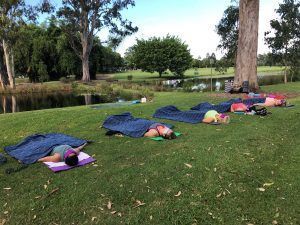 What Style Of Yoga:
These classes are suitable for all ages –
Saturday Class is Relaxing Gentle Yoga and Yin Yoga Mixed With Soothing Sound Healing –
We work in such a busy world with digital phones and technology its hard to slow the mind down and take the time to listen to what the body needs and craves. Yin Yoga consists of a number of poses mostly floor based and works on the connective tissues . Different Yin Yoga poses stimulate and remove blockages in the myofascial meridians in the body. This has the effect of balancing the body's internal organs and system and you can walk away feeling calm and relaxed.  During your class I will guide you through various postures focusing on different parts of the body along with deep relaxation and sound healing
What To Bring:
Yoga Matt and your beautiful self.
What Do We Supply:
There will be some yoga matts available on the day as well as props.